Wakulla tripped up by Florida High
The War Eagle season ends with a 42-28 loss to the Seminoles in the second round of the playoffs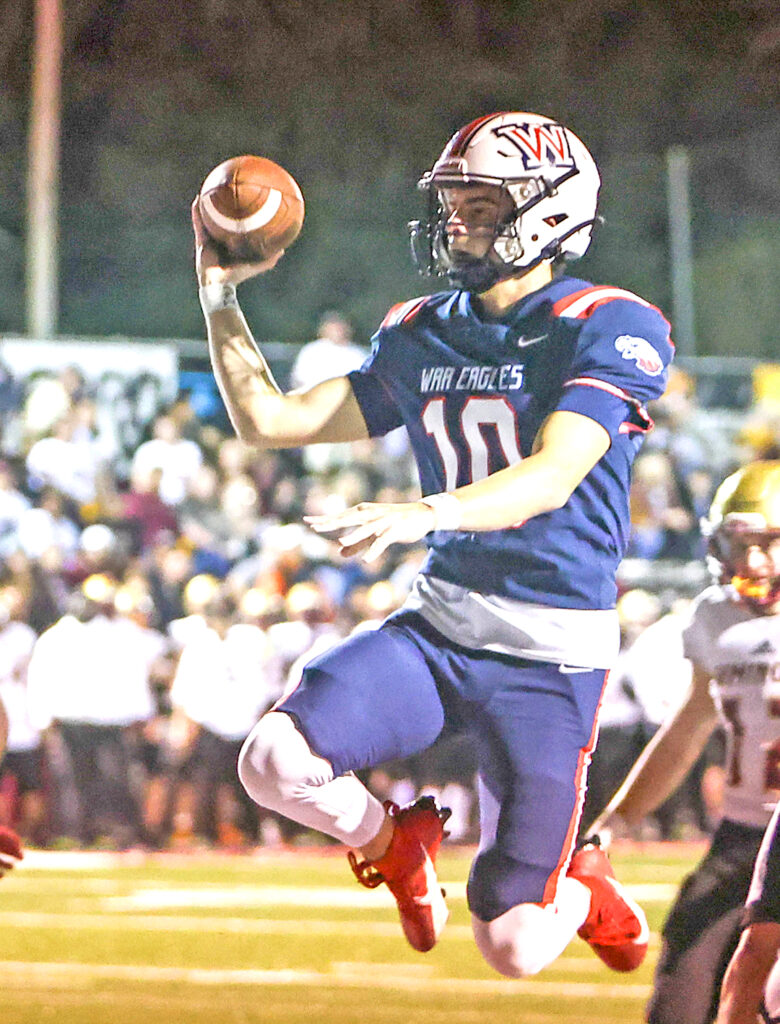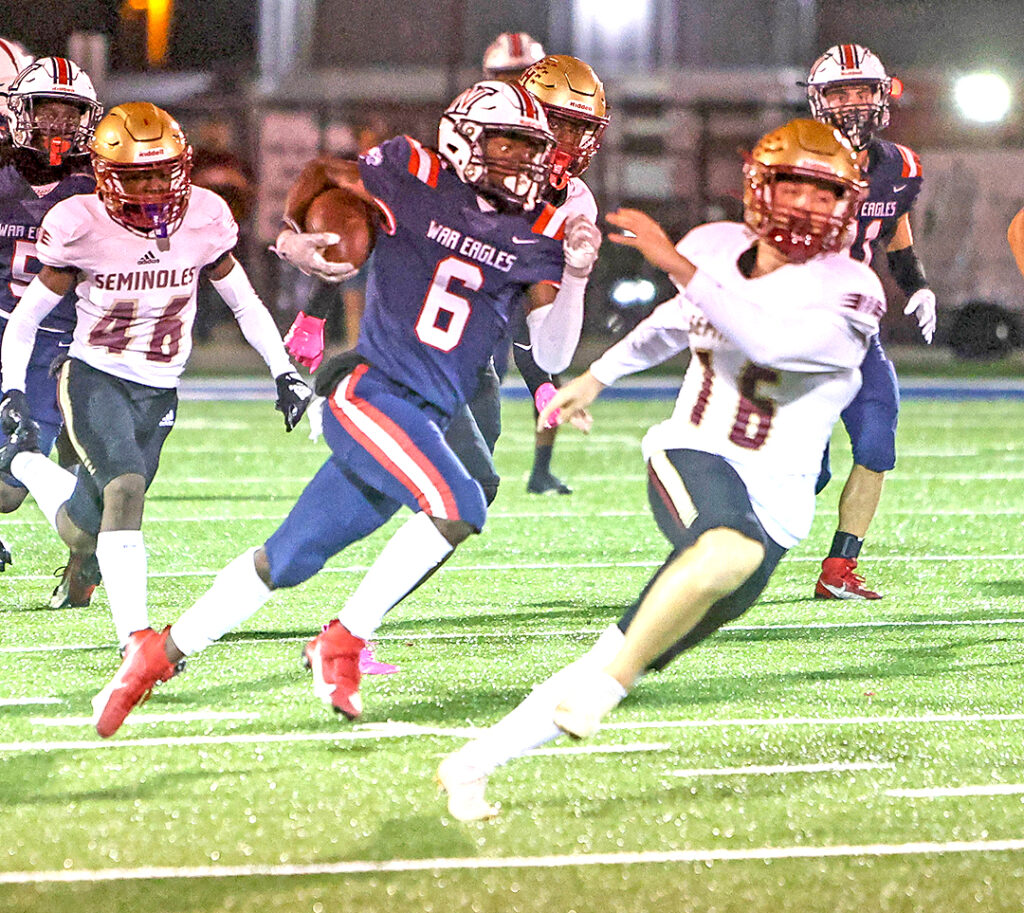 PHOTOS BY KEN FIELDS
By WILLIAM SNOWDEN Editor
The Wakulla War Eagles stumbled in their playoff run on Friday night, falling to the Florida High Seminoles, 42-28.
"First, we didn't tackle well and then we didn't have the ball – we only touched the ball once in the first quarter," said Wakulla Head Coach Scott Klees. The War Eagles fumbled on their first two drives, he noted. "We fell behind" early and couldn't catch up.
At one point the War Eagles were down 27-7 but fought back to get within 6 points – 26-21 – but couldn't stop the Seminole offense.
"We started playing better at the end," Klees said. "But we just couldn't catch up."
"It just wasn't our night," Klees said. "Things didn't go our way."
He noted there's a few windows when teams have a chance to make a run – and this year, he felt, was Wakulla's opportunity to make a run.
"I don't want to take anything away from them – Florida High is a very, very good football team," he said.
Klees said he was very proud of this year's War Eagle football team. "Most of the time, you hope your team learns life lessons from coaches," he said. "The interesting thing about his team, I think I learned more from them than they did from me."
Klees said he was "rooting so hard for them" to go deeper in the playoffs. "I did not want it to end for anything."
Of this team, he said, "They were driven to be good."
PLAYERS OF THE WEEK
Quarterback Haden Klees was named MVP for the week. He went 22 of 35 passing for 244 yards and a touchdown; and rushed 12 times for 19 yards and two touchdowns.
Offensive Player of the Week was running back Jeremiah Thomas had 8 carries for 51 yards, and also had 2 catches for 32 yards and a touchdown.
Defensive Player of the Week was Tanner Lanier, who had 9 tackles, a sack, and caused a fumble
The Special Teams Player of the Week was returner Samron Brinson, who had a 95-yard kickoff return for a touchdown.
GAME RECAP
Wakulla won the coin toss and elected to defer to the second half. Florida High took the opening kickoff, starting the drive at their own 18. On the first play, a run to the Wakulla 20. Third and goal from the 3, the Seminoles score on a short pass in the flat. Extra point good. Florida High has an early 7-0 lead over Wakulla.
On their opening drive, the War Eagles penetrate to the Seminole 35 and go for it on 4th and 5 – ball is fumbled, recovered by Seminoles.
Short pass for Florida High turns into a big gain, plus a personal foul at the end of the run for tackle out of bounds puts ball at the Wakulla 20. Florida High kicks a 29-yard field goal to add to lead. It's 10-0 Seminoles lead Wakulla.
Samron Brinson has 95-yard kickoff return to put Wakulla on the board. Extra point is good. Florida High 10, Wakulla 7 with 4:09 left in 1Q.
Kickoff is muffed by Florida High recovered by Wakulla at the 20. Facing 4th and 13 at 23, pass falls incomplete, Florida High takes over on downs.
First play of 2Q: 45 yard touchdown run and the Seminole lead is extended to 17-7 over Wakulla.
Nehemiah Chandler returns kickoff to the Florida High 26. A pass dropped at the 10 is ruled a fumble recovered by Seminoles.
A 55 yard TD pass puts Florida High up 24-7. Wakulla was forced to punt on their next drive and the Seminoles kicker nailed a 50-yard field goal to go up 27-7.
The War Eagles fought back and Haden Klees scored on a 3-yard run before halftime to cut the lead to 27-14.
Wakulla takes second half kickoff, starts at 20, drives the field: first and goal at 7. QB Haden Klees has his second rushing touchdown of the game. Florida High 27, Wakulla 21 with 7:43 left in 3Q.
The Seminoles came back with a 30-yard touchdown passto makes it 34-21.
Another War Eagle drive down the field with 1st and goal at the 9. Touchdown pass to Jeremiah Thomas. Extra point cuts Florida High lead 34-28 with 8:34 left in 4Q.
Florida High drives the field, scores on 15 yard pass, go for 2 and get it to go up 42-28 over Wakulla with 5:33 left.
The War Eagles had two more possessions but they could not score. Florida High ended up with the last possession of the game – and ran out the clock.
Final: Florida High 42, Wakulla 28.